Welcome to Gutter Master, your trusted source for professional gutter fabrication in Pensacola, FL. With our expertise and high-quality materials, we ensure that your residential or commercial property is protected from water damage caused by improper drainage. Our commitment to excellent craftsmanship and customer satisfaction sets us apart in the industry.
Types and Styles of Gutters


At Gutter Master, we offer a wide range of gutter options to cater to the unique needs and preferences of our clients. Our extensive selection includes various types and styles of gutters that can enhance both the functionality and aesthetic appeal of your property.
1. Seamless Gutters: Opting for seamless gutters can significantly reduce the risks of leaks and clogs compared to traditional sectional gutters. With our seamless gutter fabrication services, we custom build the gutters on-site, ensuring a perfect fit for your property. It not only enhances the overall appearance but also promotes efficient water flow and prevents the growth of moss and algae.
2. Traditional Sectional Gutters: Our fabrication services also include traditional sectional gutters for clients who prefer this style. This type of gutter consists of separate pieces that are assembled on-site. While it may not provide the same level of performance as seamless gutters, sectional gutters still serve their purpose and can be a cost-effective option for some properties.
Materials Used in Gutter Fabrication


To guarantee the durability and longevity of your gutters, Gutter Master utilizes only the finest materials available in the market. Our experienced team will guide you in choosing the most suitable material for your specific requirements.
1. Aluminum: Aluminum gutters are lightweight, corrosion-resistant, and can withstand harsh weather conditions. They're also the most popular choice among residential and commercial properties due to their durability and aesthetic versatility. Our seamless aluminum gutters are custom fabricated to perfectly fit your property.
2. Stainless Steel: For buildings that require enhanced strength and durability, we offer stainless steel gutters. This premium material is exceptionally resilient and resistant to rust, making it a suitable option for commercial properties and areas with high rainfall. Our fabrication process ensures seamless stainless steel gutters that will last for years.
3. Copper: If you're aiming for a classic touch, copper gutters bring that timeless elegance. They age gracefully, developing a nice patina that adds character. Our fabrication process ensures they not only look good but also stand up well to the elements.
4. Vinyl: For a budget-friendly choice that doesn't compromise on durability, vinyl gutters are the way to go. They're light on the pocket and low-maintenance. Our team crafts seamless vinyl gutters that resist fading and chipping, providing a practical and affordable solution for long-lasting performance.
Gutters for Residential Properties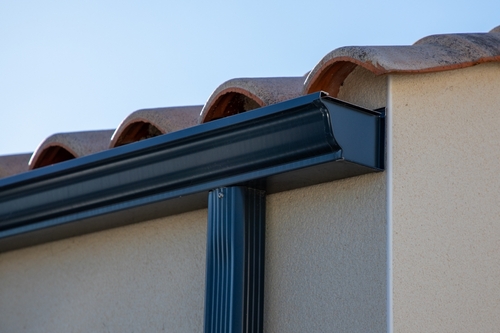 Protecting your home from water damage is crucial, and our gutter fabrication services for residential properties are tailored to meet the specific needs of homeowners. We understand that aesthetics play a significant role in enhancing the overall appeal of your property, so we offer various color options to complement your home's exterior.
Our team will also work closely with you to determine the appropriate gutter size, style, and material that suits your home and climate. Whether you choose seamless aluminum gutters or traditional sectional gutters, we guarantee a flawless installation that will effectively divert rainwater away from your foundation, preventing costly damage in the long run.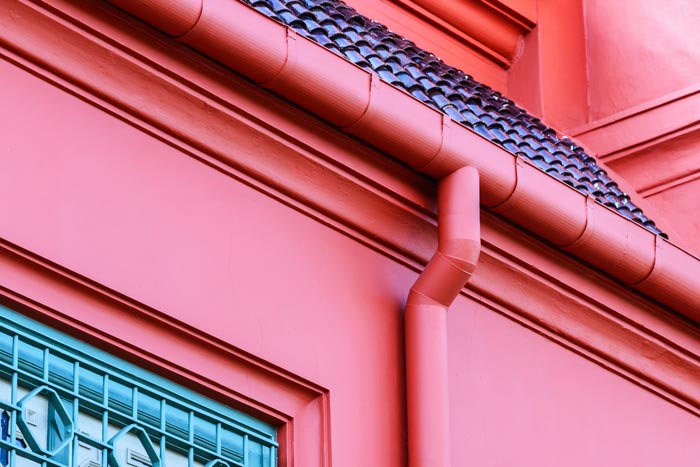 Gutters for Commercial Buildings
Commercial properties often have unique requirements due to their larger size and increased water flow demand. At Gutter Master, we have extensive experience in providing top-notch gutter fabrication for commercial buildings. Our team is equipped to handle projects of all scales, from small storefronts to expansive office complexes.
We also understand the importance of keeping your commercial property in optimal condition and maintaining its visual appeal. Our seamless gutters, available in aluminum and stainless steel, are fabricated to withstand heavy rain and excessive runoff, ensuring effective water management. With our professional services, you can mitigate the risk of structural damage and protect your commercial investment.
Seamless Gutter Installation and Gutter Repair Services
In addition to our gutter fabrication services, Gutter Master offers seamless gutter installation and gutter repair services. So if your existing gutters suffer from leaks, sagging, or damage, our skilled technicians can evaluate the situation and provide efficient solutions. We utilize quality materials and advanced techniques to ensure a seamless installation that will stand the test of time.
At Gutter Master, we take pride in providing exceptional gutter fabrication services for both residential properties and commercial buildings in Pensacola, FL. Our seamless gutter installation and repair services, coupled with our wide selection of gutter types and materials, ensure that your property is properly protected from water damage. So you can trust us to deliver outstanding craftsmanship and reliable service that meets your unique needs. Just contact us today for a consultation and let us help you safeguard your property with top-of-the-line gutters.